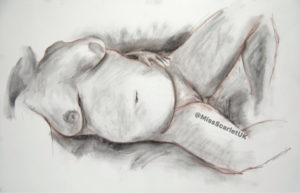 Photo courtesy of Miss Scarlet Writes
The only place where the smartest and hottest sex bloggers are featured under one roof every month. Whether you're looking for sex journalism, erotic writing, relationship advice or kinky discussions it'll be here at Elust. Want to be included in Elust #89 Start with the rules, come back December 1st to submit something and subscribe to the RSS feed for updates!
~ This Month's Top Three Posts ~
Redemption: The Sex Goddess Project
~ Featured Post (Molly's Picks) ~
An Open Letter To That Cunnilingus Post
~Readers Choice from Sexbytes ~
Writing Sex Scenes With Less Cissexism, Pt 1
*You really should consider adding your popular posts here too*
All blogs that have a submission in this edition must re-post this digest from tip-to-toe on their blogs within 7 days. Re-posting the photo is optional and the use of the "read more…" tag is allowable after this point. Thank you, and enjoy!
Erotic Fiction
Overlook
The Haunting of Iris Day
MERMAID??? Wicked Wednesday #229
Fear, Scents and Sounds
Lady Amore
love is love
Spray
Her Struggle
The New Principal
Thoughts & Advice on Sex & Relationships
Evolving Landscapes
Trust in Me
15 BEST Things About Giving Blowjobs!
With a rebel yell
What lie do you need to hear so we can Fuck?
Erotic Non-Fiction
The Brush
Tasked with asking for what I need
How Old Is Too Old For Wild Lovemaking?
Brass In Pocket
An Unstated Predicament
California Cuisine
Krystal's First Pegging
Struggling
Thoughts & Advice on Kink & Fetish
That Adult Bookstore Just Outside Town
Creature of the night
MISTRESS IN A DRESS – or out of it
Come Here. I want to Taste You
Terror of the cane! How to make caning sexy
Sex News, Opinion, Interviews, Politics & Humor
11 Signs You Might Be a Side Guy
Writing About Writing
Writing Sex Scenes With Less Cissexism, Pt 1